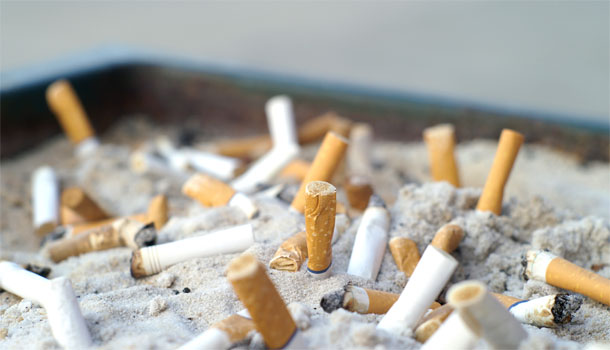 Reaching underserved smokers before lung cancer turns deadly
Tuesday 12 February 2013
UC's Tobacco-Related Disease Program administers the California Cancer Research Fund, made possible by taxpayers who donate money by checking line 413 on their state income tax forms. This year, research will focus on early lung cancer screening, especially in underserved communities, and the barriers to seeking life-saving screening and care.
Robert Grant tried just about everything to stop smoking.  He tried to quit cold turkey many times, says his widow, Lorraine Grant. He talked with his doctor. He used nicotine patches and gum, but still could not kick the habit.
He smoked about half a pack a day for about 25 years, she said. He died six years ago from stomach cancer that had spread to his lungs.
Grant, an African American, had good insurance coverage and excellent medical help, but he could not beat the addiction to menthol cigarettes.
California's tobacco control programs have slashed cigarette smoking in the state over the past few decades. Increased cigarette taxes from the passage of Proposition 99 in 1988, restrictions on advertising, establishing more smoke-free environments and sustaining anti-smoking media campaigns have cut the percentage of California smokers to about half of the national average.
The success has spared hundreds of thousands of people from a range of severe diseases, most strikingly lung cancer, which is caused by smoking 80 to 90 percent of the time. But in the shadow of the state's overall success, the smoking habit remains alarmingly high in some parts of the population, particularly among communities of color. African Americans die from lung cancer at a rate more than 50 percent higher than the white population. The numbers for some Asian American communities are similarly grim.
Researchers know that tobacco marketing boosts smoking rates in these and other vulnerable communities. But they suspect that many other factors are at play, maintaining stubbornly high smoking and lung cancer rates in certain communities.
Studies by the UC Tobacco-Related Disease Research Program (TRDRP) and others have shown that detecting lung cancer early can significantly improve — and perhaps save — the lives of smokers.
UC's TRDRP administers the California Cancer Research Fund, made possible by taxpayers who donate money by checking line 413 on their state income tax forms. This year, TRDRP will utilize donations to focus on early detection of lung cancer, especially in high-risk and disproportionately impacted groups, and to understand the barriers that block people from getting life-saving tests or care.
The research — and community programs spawned from the studies — could lead to reduced smoking, more cancer awareness, stronger prevention programs, higher cancer survival rates and reduced health care costs in the state.
Carol McGruder, co-chair of the African American Tobacco Control Leadership Council, has worked in the community for 20 years and is passionate about her work.
"Smoking is the No.1 killer of African Americans in the country. I am trying to rid our African American community of tobacco," said McGruder, who is part of a statewide collaborative project, Alliance for Data dissemination to achieve Equity for Priority Populations on Tobacco (ADEPT). That program, made possible by the taxpayer-supported California Cancer Research Fund, delivers culturally-sensitive cancer awareness and prevention information to groups that are targeted by tobacco industry marketing.
McGruder is keenly aware of barriers to getting care. People with low incomes or less education are at greater risk and tend to work at less "healthy" jobs, yet seek medical help less often, she says.  And when they do seek help, it is often inadequate.
But even when African American men, like Robert Grant, have good medical insurance coverage, McGruder said, there is something that keeps them from accessing those services.
She is sure that guilt and fear play a role. "Men know that smoking can lead to lung cancer, and some are afraid of getting a diagnosis. There's also a lot of guilt about knowingly doing something that is lethal, so there is resistance to seeking help."
That insight is echoed in research by Janine Cataldo, assistant professor of physiological nursing at UCSF, who focuses on the stigma attached to the disease among older people.
"Lung cancer is associated with cigarettes, so the perception is that if someone has lung cancer they brought the disease on themselves," said Cataldo."They feel they should have quit or not ever started smoking. Even non-smokers who get lung cancer feel shame, and many don't seek treatment because of this."
But addiction is a disease, and smoking is nothing more than a symptom, she said.
Cataldo is carrying out research on interventions to reduce the feeling of stigmatization, and help patients overcome their hesitation to communicate with their health care providers.
TRDRP supports a new strategy that allows patients to practice interacting with their heath care provider using a virtual clinical experience. They become more comfortable with the prospect of talking to their physician, Cataldo said. Many doctors have embraced the idea of placing these virtual practice stations in their waiting rooms.
Tung Nguyen, professor of medicine at UCSF, focuses on improving smoking cessation outreach to Vietnamese Americans in California, where smoking is very heavy among men. Director of the Vietnamese Community Health Promotion Project, he finds a limited response to anti-smoking messages among men in the community.
"We are trying to tease apart the causes," he said. "Is it lack of knowledge about ways to quit, or lack of contact with doctors, or just plain not wanting to quit? It's probably a mix of many factors.
"Some men don't necessarily want to go to a smoking cessation group. They don't particularly want counseling. They just want to quit smoking, but it's hard to do it without help."
As a result, many of these heavy smokers don't have much knowledge about ways to quit — nicotine patches and other medications — and among those who do take the first step, some use the smoking cessation aids incorrectly, he said.
Part of the answer might be in family health — helping smokers think about how their habit endangers family members, and helping spouses to be more supportive and less judgmental about their partner's addiction. Recruiting "lay health workers" from the community to talk with family members as well as the smokers shows promise, he said.
Like Cataldo, Nguyen has seen encouraging results from strategies that don't necessarily require face-to-face interactions with health workers. He cites evidence from telephone "quit lines" that let smokers call in for counseling. They have had good success in the Vietnamese American community, at least among those who have made the call, he said.
Researchers don't expect everyone in the state will get the message and stop smoking. But over the past few decades, millions have. The new research efforts aim to help those who have not been reached so well, to make sure that all Californians have a good chance to break away from tobacco addiction.
See also:
Screening those at the highest risk for lung cancer
Walking through a virtual lung cancer clinic (UCSF features Janine Cataldo)