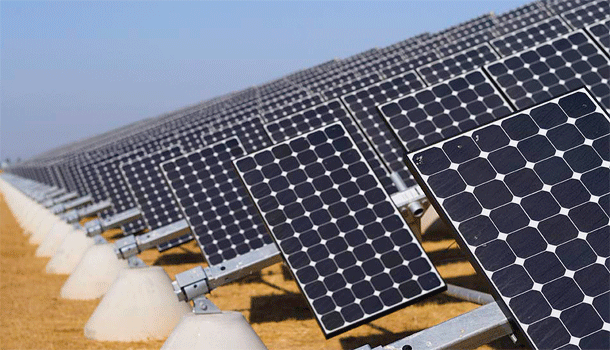 Putting the crown on solar power
Thursday 20 October 2011
Someday, solar power will provide all the energy homes and buildings need for electricity, heat and cooling. Scientists at UC Solar, a multicampus research institute based at UC Merced, are helping to make that day come true.
"The best prospect for abundant alternative energy is solar power," said Roland Winston, director of UC Solar and a professor of engineering and natural sciences at UC Merced. In terms of resource abundance, "Solar is the king."
UC Solar is one of 37 UC Multicampus Research Programs and Initiatives awarded $68 million in grants over five years from the UC Office of the President in 2009. The programs have assembled teams of UC experts from a broad range of fields to focus on research areas important to California, such as clean energy and transportation, social disparities and the state's changing demography.
The institute's latest breakthrough is a novel system designed by Winston and a team of student researchers that uses solar-thermal technology to power air conditioning and could pave the way for many other industrial uses.
The External Compound Parabolic Concentrator (XCPC) system gathers and concentrates sunlight onto specially made collector tubes. The heat generated can be transformed using existing technology for cooling, heating and a number of other potential uses.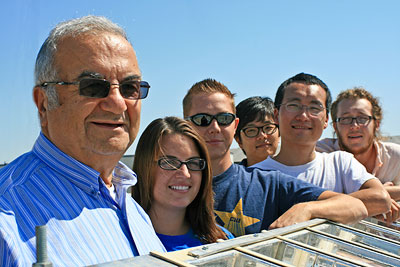 Roland Winston, left, and team of student researchers designed XCPC system.
The design's unique features are its collectors, which can achieve optimal efficiency while stationary. Collectors in typical solar-thermal systems must move and track the sun to achieve top-energy production, and that requires equipment that can be costly and complex. The XCPC is a research highlight so far in UC Solar's nearly two years of operation, according to Winston.
"It's been working spectacularly all summer," he said of the 6.5-ton double-effect absorption cooler, powered by 160 XCPC collectors, that is cooling a mobile office trailer at a UC Solar facility.
B2U, a Silicon Valley startup, collaborated with the UC Merced solar group to develop the XCPC and is applying the technology in the United States, India and China for solar process heat and air conditioning.
UC Solar's objective is to create innovative technologies such as the XCPC that are more affordable to use and operate more efficiently than current systems. The institute research focus includes solar concentration, solar forecasting, employing nanotechnology in both collector and concentrator devices, developing new ways to capture usable energy in the UV portion of the solar spectrum, and improving the efficiency of solar cells through innovative light management.
The institute launched in January 2010 with engineering and natural sciences researchers from UC Merced, UC Berkeley and UC Santa Barbara. UC Davis and UC San Diego later joined, and the collaboration conducts interdisciplinary research and works with industry partners to bring new technology to the marketplace.
The specializations and approaches each campus or researcher brings to the table complement each other, said Ron Durbin, executive director of UC Solar.
"We have a diversity of ideas, a diversity of approaches and a diversity of human capital," Durbin said. "We're committed to the idea that if we bring all of that together, the outcome will be better."
For instance, nonimaging optics, a field Winston created while still a graduate student at the University of Chicago, is a technology that can be applied in solar, illumination, signal detection and many other areas. In solar it enables fixed position concentrators. UC Davis researchers are adopting Winston's work into solar-powered food drying systems they are developing for use in Africa.
To help move these new innovations out of the lab, UC Solar enlists industry sponsors that partner with the institute to support its research.
"We need to know what challenges the industry is facing," Durbin said, "and we want to apply our research assets to help meet those challenges."
Academia is an ideal forum for basic research and educating students, but not always the best place for identifying real-world problems, Winston said.
"This kind of cross current with industry is absolutely essential for a vital (research) program," Winston said. "We want to get our inventions out there and have an impact on society. That can't be done unless we know what industry wants."
Current UC Solar sponsors are renewable energy provider APG Solar, E.&J. Gallo Winery, pump manufacturer Grundfos, lighting systems maker InteLED Corp., Merced Irrigation District Water & Power, photovoltaic engineering services firm RETC LLC and components maker Richardson Electronics.
While not an industry partner, SunTherm Energy, is an offspring of UC Solar. Three current and former students who studied under Winston founded the Merced startup. The company's solar thermal technology can replace natural gas-powered heating systems used in food processing and other industries.
"We're making the bridge between technology in the lab and the real world, and it's exciting to be at the forefront of that," said Heather Poiry, a graduate student at UC Merced who studied under Winston and is one of the co-founders of SunTherm.
While creating spinoffs isn't necessarily a goal for UC Solar, "It's a nice outcome, of course," Durbin said. "Our mission is to solve problems, not start companies. But if we solve problems well enough, then companies will start."
The solar industry still holds great promise even with the recent headline-making bankruptcy filing by Solyndra after it received government-backed loans. The company's predicament can be seen as a "speed bump, albeit a rather large one" on the road to more widespread use of solar technology, Durbin said.
"There's still ample need and ample opportunity for investment in university-based solar R&D," Durbin said. "We're working on tomorrow's marketplace and tomorrow's technologies."
One of those technologies with huge potential is solar thermal, Poiry said, and her company wants to be in position to capitalize on it.
"I think it will revolutionize heating, cooling and other industries over the next decade," Poiry said.
Winston said combining the heat generation of solar-thermal collector tubes with photovoltaic capacity to generate electricity is the next step in the evolution of the technology, something he and his team are working on now. The team also is researching raising the useful temperature of fixed position collectors to open up a broader range of applications.
Along with advances for longer-lasting, higher-capacity batteries for storing sun-generated power, "We can see a world in the future where much of our energy needs are met by solar," Winston said.