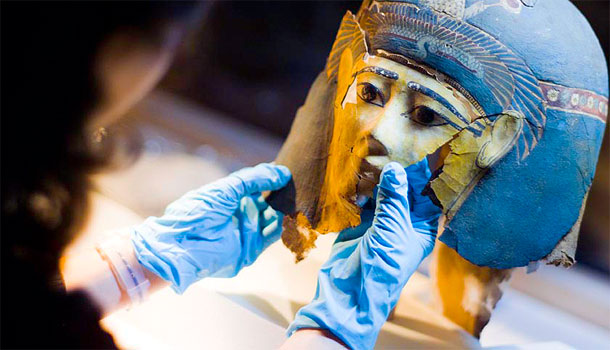 Bringing a gold mine of Egyptology online
Tuesday 14 June 2011
UCLA scholars developed the world's first comprehensive E-encyclopedia on ancient Egypt, and it is full of information on ancient temples, archaeological treasures, hieroglyphics and more.
Google "Egyptian History" and you get 39 million results. With so many pages of mummies and temples and pharaohs to wade through, and so many students now doing their research online, one professor decided to make sure she could send them to a reliable source:  UCLA's new Encyclopedia of Egyptology, or the UEE. 
"There's a lot of really good information and a lot of really bad information on the Internet," said editor-in-chief Willeke Wendrich, professor of Egyptian archaeology and digital humanities in the Department of Near Eastern Languages and Cultures. "Students are not equipped to discern what's valid." 
The latest generation of Egyptologists also seem reluctant to consult the kind of standard reference works Wendrich trusts. For example, examining the seven-volume "Lexikon der Ägyptologie," which had reigned as the bible of Egyptology for the past three decades, requires a trip to a bookshelf and the ability to read German, French and English. This eminent work was published in Germany between 1975 and 1992. "The title alone was enough to scare off any undergrad," she says.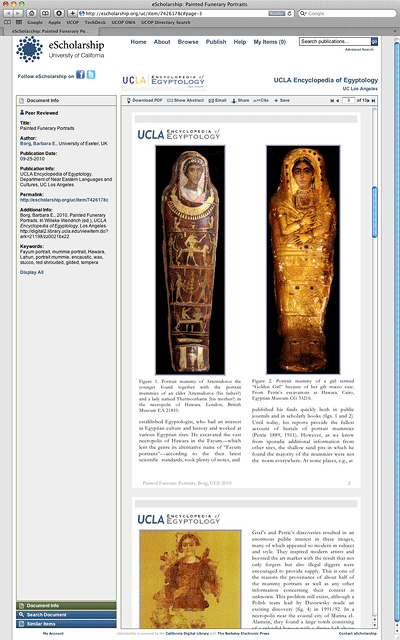 This page in the online UCLA Encyclopedia of Egyptology detials painted funerary portraits. 
Neither daunting nor weighty nor gilt-edged, the new online encyclopedia is crisp, welcoming and current. The opening screen, framed in a cool Wedgwood blue, invites you to use data mining, search function and hypermedia tools to make sense of the wealth of information on Egyptology.
You can read both current and past research papers on demons, thrones and feathers, explore the architecture of grand temples and humble mud-brick homes, and learn how the Egyptians made papyrus paper and perfume, among other things.
The UEE format caters to both scholarly and popular audiences. It enables users to drill down into the details and origins of drawings, photographs, maps and research findings to whatever level they desire. Another advantage of an online encyclopedia is that information can be added and updated whenever necessary. And in coming years, scholars are expected to contribute to the constantly evolving encyclopedia, which ultimately will contain some 4,000 entries and weigh in at 6 million words.
"Truly encyclopedic knowledge in this day and age means to have access to every relevant source, of guaranteed accuracy, with clear guidelines on how to search the desired material and the potential to open unexplored research paths," explains the introductory screen.
The Encyclopedia of Egyptology is funded by the National Endowment for the Humanities, which in the past three years has awarded $8.3 million for some 90 projects at UC campuses. (See video about another NSF-funded project, UC Santa Barbara's online encyclopedia of Victor recordings, on the UC Research home page.)
Wendrich launched UCLA's online encyclopedia in 2007 with  Jacco Dieleman, associate professor of Egyptology and Near Eastern Languages and Cultures. She was seeking to provide not only "gold standard" reference materials but also to attract funding for graduate student research in faraway places like Fayum. There, at UCLA's dig in an arid desert which was once a lush lake shore, researchers are trying to assemble a picture of Egyptian life at a landscape scale. "Agriculture is the line that runs through the history of this landscape," she said. "It was the foundation of Pharaonic civilization, and 5,000 years later this region fed the people of Rome."
Whether in the tools and artifacts found in these landscapes or in the ornate hieroglyphs, architecture and sculpture of the pyramids, it's easy to find substance and detail in what remains of Egyptian culture. "One of things you can really learn from Egyptian history, because it's relatively well recorded, and we have so much left in text, in images, in archaeological remains, is the full depth and breadth of this ancient society. We can see what moved people, their worries and delights, their ways of solving problems. We can also see the multiple histories which come from different viewpoints in one society at a given moment. In every era, there are in a way almost as many truths as there are people," said Wendrich.
In this era, digital technology and the interactive miracle that is the Web have enabled encyclopedia editors to give the ancients new dimension in film, maps, art, text translations and more. Indeed, the online UEE, as knowledge aggregate, may outstrip its leather-bound predecessors by leaving us with something greater than the sum of its parts.