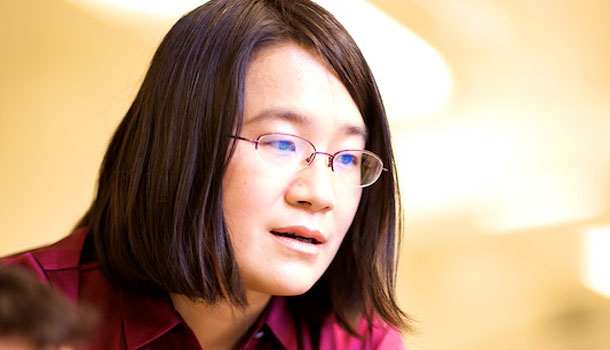 Chun Ning (Jeanie) Lau
"All science is either physics or stamp collecting, said early 20th-century physicist and Nobel laureate Ernest Rutherford.
If physics is, arguably, the most profound of all sciences, why doesn't the field include more women? That's the question UC Riverside's Chun Ning "Jeanie" Lau asked herself as she rose from high school nerd to prize-winning scientist. After all, women routinely deal firsthand with questions of existence, life, death and meaning. Shouldn't they be well-represented among the thinkers seeking answers to these ultimate questions?
Lau, a professor of physics and astronomy at UC Riverside, talks about the "leaky pipeline" between gifted female students and the ultimate prizes of full professorship and a laboratory. Lau herself has earned these and other notable honors, including the Presidential Early Career Award for Scientists and Engineers in 2009.
Currently, she is researching graphene, a one-atom layer of the common material graphite, which conducts electricity 20 times more efficiently than silicon. Lau cautions that industrial use may be a decade or more in the future, but graphene could eventually replace silicon as the building block for many kinds of technological devices. Because graphite is transparent, plentiful, and cheap, Lau's research has the potential to dramatically reduce the cost of solar technology.
Photo by  L. Duka, UC Riverside
You organized a 'Women in Physics' lunch group that provides an informal venue for female students, postdocs and faculty members to interact. What are some of the discussion topics?
It gets lively when there are hot issues. As you might expect, we talk about balancing family and career. That's a big issue. But we also talk about bias. There is a lot of subconscious bias against women in physics. If you say physicist, a certain image comes to mind. It might be a white male, for instance.
Tall and thin with wisps of hair sticking up?
Yes, exactly. (laughs) Those images are powerful! There was a survey done that showed distinct bias. A group of researchers sent out CVs to human resources people in various companies. I think they may even have told them they were fake CVs. They found that if the name was a guy's name, the person was found to be qualified far more often than if the CV had a woman's name. People were subconsciously thinking that male physicists are more capable.
You've talked about Marie Curie as an inspiration. Of all the sciences in the U.S., physics continues to have the lowest representation of women. What would Madame Curie say about this?
First, she would notice great progress. She had trouble getting into the French National Academy, partly because she was a woman. There's been a lot of progress but not enough.
One of the big problems is that women physicists don't have the physical resources needed to further their careers: laboratories and equipment. Surveys showed that gap to be even wider in developed countries than in less developed countries. You beat the odds, and you have your own lab. How did that happen?
You've got your Ph.D., you do your postdoc and then you apply for the job. If you're offered the position, the next step is to negotiate for a lab space and startup funds. The process is the same for women and men. What I think is different is women, including myself, are not good at negotiating. I also urge women to pursue opportunities in the field. I want women students to approach me about working in my lab. Come talk to me!
Why do you think women don't negotiate as well as men?
I think women always worry: Am I asking too much? We're always worrying about whether we'll be putting the other guy in an awkward position, or coming across as too pushy. So you end up with fewer resources.
The American Association of Physics tells us that between 1987 and 2009, the number of girls taking high school physics increased 161 percent while the number of boys rose 88 percent. But those numbers drop dramatically when you look at advanced physics classes. That's one 'leak in the pipe.' There's another dropoff between postdoctoral researchers and faculty researchers with their own labs. What happens?
I don't think it's a fundamental difference in aptitude for physics. Like any other topic, physics requires a lot of different skills. You need the ability to understand concepts and visualize things. You also need analytical capabilities, management skills and you have to be a good writer to write proposals to raise money. You need a complete package. I would think the variations among individuals is much larger than the differences between men and women.
Where should the effort start, when it comes to leveling the playing field?
The earlier the better. There are a lot of girls studying physics in middle school but after that point, the pipeline is very leaky. By the time you get to a faculty position, only 10 to 15 percent are women.
Some organizations have suggested training teachers to reinforce the idea that girls can excel at math.
That's part of it. In the later stages, a lot still comes down to family issues. It's difficult to find two faculty positions in the same city, and if the husband has a good position somewhere else, it's often the women who give up their careers.
Once you have these enormous disparities, with practically all men in tenured and senior positions, isn't there a tendency for that to become self-perpetuating?
Mentors are important and so are role models. I started out not liking physics. But I had a really good high school teacher. I also read a lot of books: the biography of Madame Curie and popular science books.
On that note, you're married to a physicist, just as Marie Curie was, but in a very different time. Do you and your husband compete?
We're actually in the same field. (laughs) We try not to compete and we try to stay out of each other's projects. Sometimes, if things come out of a discussion, we turn it into a collaborative project.
What's the ultimate attraction in physics? Why should women pursue it?
It's such a nice thing to understand nature. It's the ultimate pursuit, to understand nature, to find the fundamental laws.
So you were attracted by aesthetics and meaning?
Flying to Mars is a good motivation, too. If they beam me up, that would be even better.
I'm getting the idea that you watched Star Trek. Did they show it on TV in Hong Kong when you were a kid?
I watched it after I came to the U.S. But I'm quite the Trek fan now. I'm a Trekkie.
Here's a truly controversial question. Are you a fan of the original Star Trek or the later ones?
Hmm. I have to tread carefully here. It depends on which later ones you mean. I'm also watching "The Big Bang Theory." It's about a bunch of nutty physicists.