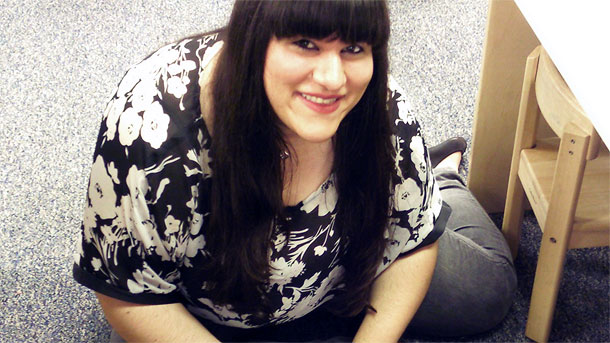 Kandice Soraya Grote
Psychological Sciences

Merced
At Le Lycée Francais in Los Angeles, pre-school tuition is $13,320. By the time a child reaches second grade, parents pay $16,500 so their child can be "articulate in at least two languages" and leave school prepared for a rapidly globalizing 21st-century world.
But in the Central Valley, when Kandice Soraya Grote, a UC Merced graduate student in psychological sciences, surveyed the parents of kindergarten students, the majority of native English speakers resisted the notion of including a bilingual component in the classroom. 
"That's the dichotomy," Grote says.  "In America, people who are well off want their kids to learn a second language. But in the public schools, parents are afraid that their children will be at a disadvantage if bilingualism is part of the curriculum."
Of course, most parents think of bilingual education as something for non-native English speakers. Grote suggests that schools can have it both ways: By serving the needs of non-native English speakers, children growing up in English-speaking homes can also benefit.
Researchers have been studying the cognitive effects of bilingualism in children for almost 20 years, and the news is overwhelmingly positive: Bilingualism increases problem-solving abilities related to both math and reading, and even has been linked to higher IQ scores. 
As a researcher in cognitive development, Grote has focused on pre-schoolers, because the best time to acquire a second language is before the age of 5.
She points out that state-of-the-art bilingual education — using two languages in the classroom — is quite different from the current system in most schools, which consists of relegating non-native English speakers to special classes. Grote says that the highly charged political debate surrounding bilingual education has made it difficult to institute changes. 
What's not in dispute is the skyrocketing need for effective bilingual education: from 1995-96 to 2008-09, the number of English language learners rose 51 percent, to 5.3 million — more than 10 percent of kids in U.S. schools. Because these students often lag behind their peers, it's understandable that the native English-speaking parents surveyed by Grote are anxious at the prospect of bilingual education in the classroom. But many problems experienced by non-native speakers result from poorly designed bilingual education programs, Grote says. By applying recent research in neuroscience and psychology, bilingual learning can produce a win-win situation. 
When she completes her Ph.D. this spring, Grote hopes to fill the gap between research and practice by perhaps opening a preschool or learning center that emphasizes language and diversity. In the meantime, she shares her insights.
Americans are notorious for not speaking languages other than English. Do you think this mentality has hurt efforts to provide bilingual education?
That's possible. Most Americans don't grow up knowing more than one language. Traditionally, most public schools have introduced a second language in high school.  That approach was based on poorly executed, old research from the 1970s. They thought it was too much of a cognitive load to introduce a second language to younger kids. 
In the 1970s, there was a huge movement for education reform. Basically, the recommendation was "total immersion." But that didn't work, so by the 1980s, schools were shelling out tons of money for what was called bilingual education. A lot of it was going to English only, total immersion programs calling themselves bilingual.  That approach still wasn't working, and people said we're not going to throw money at something that isn't working.
A lot of buzzwords and fads, but not much real change.
The change came later, with ESL (English as a Second Language). Kids are taken out part of the day and taught in their native language, and put back in the classroom. The problem is that they feel ostracized, and they're not getting enough time learning the content of the classes. ESL is still our "go to" program in the U.S.  It's not working, and it's tough on kids emotionally. Here in Merced County, there are kids who are not allowed to speak Spanish in pre-school.
So that's the dichotomy: Research in neuroscience and cognition tells us that dual language kids have an advantage, yet bilingual students aren't doing well in our system.
All those benefits come to someone who is proficient in both languages. These students are not proficient. Their problems affect everyone, not only society in general, but also schools, because there is an impact on budgets. The money lost in public education comes from kids repeating grades and dropping out, and most of those kids are non-native English speakers.  
Why did you decide to focus your research on pre-school?
That's where reform can have the most impact. Language acquisition is easiest before the age of 5, yet non-native English speakers are less likely to attend pre-school because there's no language support. Also there are tremendous short- and long-term benefits to attending pre-school. Children who attend pre-school are less likely to be involved in incidents of delinquency and drop out of high school.
What do you say to parents who are threatened by the idea of a bilingual component in their children's school?
When it comes to problem solving and hypothesis testing, bilinguals come up with significantly more solutions. They're more creative and more out of the box. This is good for math, language and art. If you think about it, they have two conceptual stores to pull from. That cognitive flexibility gives them an advantage. The other thing you see — this is fairly new research — is earlier development of theory of mind, essentially being aware that other people may think or feel differently.
Do the benefits of bilingualism show up in adulthood?
New research into Alzheimer's and memory loss suggests bilinguals may be better able to retain their memories, and that bilingualism may actually help with degenerative brain diseases.
Does your own background help you in your work? You grew up with an Iranian mother, mostly on U.S. military bases abroad.
I spoke Farsi and German, but when we moved back to the U.S. my parents spoke English and dropped the other languages. I only remember a few words of Farsi. When I talk to parents of Spanish-speaking kids and tell them that by speaking Spanish at home they're actually giving kids cognitive benefits, their faces light up.
Five-year-olds might have less going on in their lives than adults, which makes it easier for them, too. But for adults, it's never too late to learn a second language.