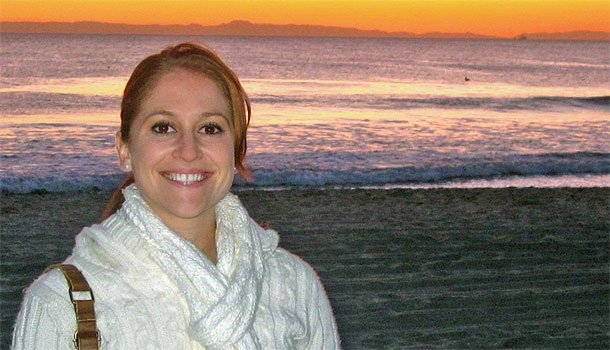 Aurora LePort
Neurobiology and Behavior

Irvine
People often talk about all the things they can't remember, and memory loss is the subject of many studies. But Aurora LePort, a graduate student at UC Irvine, researches the opposite phenomenon, which until recently was completely unknown. 
LePort studies individuals who possess the ability to remember virtually every day of their lives in detail, from the color of a dress their mother wore at their ninth birthday party to the weather on the day in 1991 when Magic Johnson announced he had HIV.
The project began in 2000, when a woman contacted memory pioneer James McGaugh at UC Irvine's Center for Neurobiology of Learning and Memory. She talked about the relentless exactitude of her autobiographical memories, a barrage of information that caused one of the center's researchers to describe her as someone "who is both the warden and the prisoner of her memories." At first, the scientists were skeptical, but after testing the woman — whom they called "A.J." to protect her identity — they became convinced that her abilities were genuine. 
The next part of the story falls into the realm of amazing coincidence. A.J.'s story came to the attention of a "60 Minutes" producer. When the producer tried to convince correspondent Lesley Stahl to cover the story, Stahl responded that this condition couldn't be all that rare because her friend, actress Marilu Henner, had the same near-total recall. 
As it turns out, Henner really did have the same ability. But it is indeed rare. After Stahl's "60 Minutes" segment aired last December, hundreds of people contacted the UC Irvine researchers, but fewer than 30 possessed what is now being called "highly superior autobiographical memory."
LePort, a third-year doctoral student, studies 11 of those people, including Henner. In addition to looking at whether their brains have physical characteristics that influence memory, LePort is starting to investigate the connections between behavior and superior memory. Memory forms so much of the foundation of our lives that it's hard to avoid the deeper questions raised by this startling phenomenon, which could change the way we look at loss, grief, old angers and love. 
She presented some of her research at the Society for Neurosciences annual meeting in November, and it was covered widely by media, including the Los Angeles Times.
The principal investigator for LePort's project is Larry Cahill of CNLM. The researchers collaborate closely with McGaugh and center director Craig Stark, Frithjof Kruggel of the UC Irvine Department of Biomedical Engineering and Heather Hanson of Chapman University. 
A.J., the first person identified with superior autobiographical memory, says she developed her ability after moving from the East to West Coast at 8, which she describes as traumatic. In the group you are studying, are you finding similar triggers for the detailed memories of your subjects?
No, we're not. This is actually unique to her. But we do see subtle patterns among the people we're studying. The same parts of the brain, the basal ganglia, which are larger in people with obsessive compulsive disorder, also are larger in people with superior autobiographical memory. We're seeing a possible link between these brain differences and obsessive tendencies. 
How do you design a study that addresses both the brain and behavior?
We compare the 11 people with superior autobiographical memory to 20 age- and sex-matched controls. We're trying to qualify and quantify the nature of their memory. We've done that with a battery of autobiographical memory tests and non-autobiographical tests. We're also doing MRIs so we can look at the structure and size of the brain.
With such a small group, is it hard to draw generalizations?
You don't want to put them into a box. There are a lot of personality differences that could be coming into play here.
Are there any deficits that seem to go along with superior autobiographical memory?
We've found some areas of the brain that are smaller. I'm actually in the process of writing a paper about this. I'm not supposed to talk about it before it's published!
In their paper on A.J., the researchers wondered if her poor executive functioning and perseveration (what the rest of us call being disorganized) was related to the wealth of autobiographical detail running through her mind. Does this show up in other people?
This is something we want to look into but haven't yet. A.J. is a phenomenal human being. This memory can be a burden for her. When I asked her if she could replace it with my memory, which is not exceptional, she said she wouldn't want to get rid of it. She has her struggles, but we don't see any behavioral deficits. 
We have all had the experience of telling a story about ourselves that we have told many times, and suddenly see that experience in a new way. But the people you study describe reliving an experience exactly as they felt it the first time. Do have any insight into how this affects the way a person processes traumatic life events, such as loss?
We know that participants say they experience events with the same degree of detail and emotion as if they just occurred. We haven't looked at how their interpretations of memories change over time yet.
This is just my opinion, but I would suggest that even though a memory doesn't change, you may gain new insight into that memory as your cognition, attitude and beliefs change over time. We just do not know yet.
The researchers noted that A.J. spends more energy recalling the past than projecting into the future. Many feel that they are prisoners of their memories. How do we become wardens?
You are in control of what you pay attention to. You have your interests, what you retain, what you study, what you focus on. The more you think about something, the more likely you are to retain it. In certain ways, you can be the warden. 
What's interesting is that our participants are not using mnemonics to help themselves retrieve memories, at least not to the phenomenal degree they exhibit. It seems that they tend to remember events of personal interest to them in greater detail but the degree to which they recall the details of those events might possibly be out of their control.
The questions raised by this research seem so fundamental. Are we talking about the nature of autobiographical truth, personality, perhaps storytelling in general?
That's why this research is so interesting. It gives us a chance to see what the brain can do.