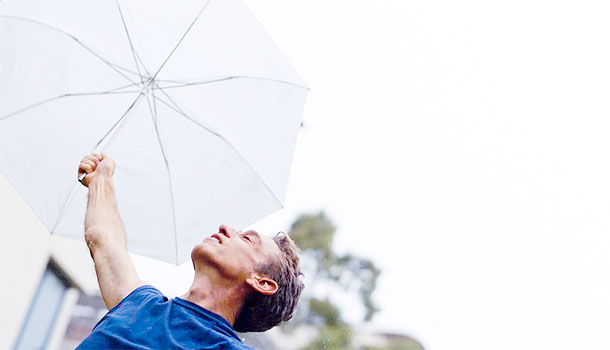 Christopher Pilafian
Christopher Pilafian is a dancer who paints. All his life he has expressed the flow of energy in the body and the psyche, and now he's bringing this flow to paper and canvas. "When I'm painting in a zone, I notice that the work and the doer merge, almost like there is no doer. It feels like Tai Chi. Then the gestural aspect of the painting moves through my whole body."
Pilafian came from an artistic family. He first explored visual arts and acting, but took up dance with a passion as a teen. He went on to perform and tour with Jennifer Muller/The Works in New York City for 15 years, and was a founding member of this modern dance company. It was only when he took a job as a professor at UC Santa Barbara that he had time to return to painting, and to explore new frontiers in dance education and history. In 2010, he and his colleague Valerie Huston invited Jennifer Muller to do three intensive residencies in Santa Barbara in 2010-11, supported by a National Endowment for the Arts grant: "American Masterpieces, Three Centuries of Artistic Genius." (See video excerpt of Muller's "Speeds.")
Asked if his students these days aspire more to competing in the TV show "So You Think You Can Dance?" than to a place in the Alvin Ailey American Dance Theater or Royal Ballet, Pilafian is positive. "The early impulse to dance can so easily be lost in the rigors of training. That show offers a sense of the brightness of possibility to a large number of young dancers, including young male dancers. Once they come to us, they realize there are a lot of other things they can do." 
When did you know you wanted to be a dancer?
The turning point came for me when I was about 14. I had been dancing for a year when the NEA's National Touring Program brought the José Limón Dance Company to Detroit for a one-week residency. I took a class with the company every day that week, heard José speak and saw the company at close range. The intensity of that week — with an up-close, first-hand connection to the work — opened my mind. That was when I got serious about dance. I thought, this is really something big for me in terms of my identity.
The dancer Jennifer Muller had star quality. Why?
I saw her first in Detroit, when she performed with the Limón Company. I didn't really understand what I was looking at, but the audience was buzzing about her. She was magnificent. Later, when she emerged as a choreographer, I ended up dancing in her company. She was one of only a handful of people in the field who had a larger-than-life persona on stage. Her mastery of the forms was extremely strong. 
How did Muller reshape modern dance?
Muller attained a level of accomplishment that represented, for me, a living synthesis of all the best contemporary principles I had studied at Julliard (and elsewhere), only she took it all to a new level. In the 1970s, during the first wave of post-modernist dance, Jennifer and her partner, Louis Falco, were doing things differently than others in the field.  They had a way of moving through time and space, of using energy, of combining technical control and abandon, that was exciting. They changed perceptions about what was, and is, possible in dance.
Which, of all the pieces choreographed by Muller, most captured your imagination?
"Speeds," made in 1974. It had an early synthesizer (Arp) score by Burt Alcantara, that referenced jazz/rock fusion, 18th century counterpoint, electronic soundscapes, pop music. The look of the piece is a combination of the pristine and the everyday. The pristine part is that everyone's wearing white. But the clothes are not specialized dance outfits, they are just clothes, so what we see is everyday people. In the 1970s, during the the post-modern movement, the focus in dance was turning from the idea of spectacle toward the idea of performers being, first and foremost, people, human beings like you and me, each a distinct individual. It's as if you are watching people you know, who feel comfortable enough with you to reveal who they truly are. 
What happens during "Speeds?"
The piece begins famously with a very simple, sustained walking parade. The dancers enter, one after another, in single file, just walking, but very slowly. They snake their way back and forth across the stage, speeding up little by little. By the time they exit the stage, they're going super fast, like an English walking race. So it's ordinary, it's elegant, it's pristine, and it turns out also to be funny. That's the first thing we see. Then the piece explodes in a fleeting, spontaneous, big duet. Throughout "Speeds," Muller takes you back and forth between these two iterations of what movement can be — the everyday, and a highly evolved movement vocabulary. In the world of modern dance, that is a lot of what our research is about as creative people. It's finding and being able to say something with a vocabulary that is created especially for that moment.
Was research a new frontier for you as a dancer?
Doing something brand new, that you've never done before, is research. After we brought Muller to UC Santa Barbara, a colleague, Ninotchka Bennahum, proposed a conference and exhibition about her. So in the process of putting these together, I had three simultaneous learning curves: curating the exhibition, presenting the conference and creating a book. We called the project, "Transformation & Continuance: Jennifer Muller and the Re-shaping of American Modern Dance." To co-curate the exhibition, we traveled to New York, went through materials in the Library for the Performing Arts and Jennifer's company archives. We poured over books and books of photographs, reviews and programs. We photographed pretty much every page and worked with our university art museum director, Bruce Robertson and his staff, to hang the exhibit. Alejandro Casazi, graduate of the College of Creative Studies in Book Art, designed a catalog. I co-edited it with Ninotchka and authored a chapter about "Speeds."
How have you brought Muller into your work today?
Jennifer's technique became my daily training during the 15 years I was in the company. It encourages big range and awareness. It prevents injury and makes strong, flexible dancers. I used to read the I Ching as a teenager, so I love that the technique is grounded in eastern philosophies: how one thing leads to another, relations between opposites. Open-mindedness about possibility comes with it, too. A few things about this technique set it apart in dance: moving energy within the body instead of just moving body parts as blocks; and secondly, an emphasis on the inevitable connection between the psychological and physical.
To practice this, we would turn the music off and run through a piece, verbalizing our inner dialogues like a kind of acting exercise. The choreography was set, but our words were spontaneous in the heat of the moment. We'd see what would come out. What happened was that the dancing got better. When the dancer fully commits to the meaning of the dance, they forget about technique, but the capability of the body is amplified. 
Will people still dance in the brave new virtual material world?
Dance is grounded in physical actuality and the human experience of the here and now. I suppose you can make dance in virtual space, but it's not likely to connect viscerally. To experience it as dance, you have to actually move the physical body, and a lot of subtlety is involved as well. When I've wondered why, in this materialistic and technological society, young dancers keep showing up at UCSB, my answer is that the impulse to dance seems to be timeless and universal. You can see its pure impulse in toddlers. It's a real, fresh statement of being alive. Dance is part of human life, an impulse to be honored. My whole purpose in this job is to honor that impulse.