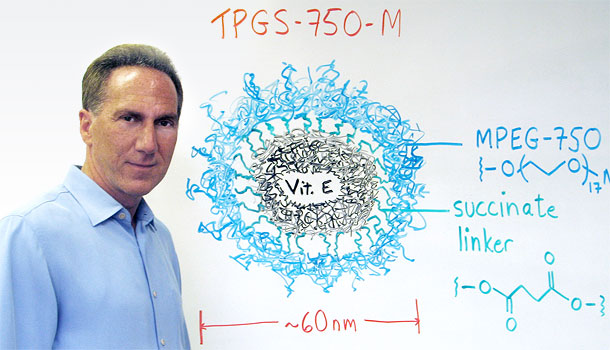 Bruce Lipshutz
Chemistry and Biochemistry

Santa Barbara
UC Santa Barbara's Bruce Lipshutz did not set out to eradicate pollution — he was just looking for a new way to get dietary supplements into water. The problem was that most organic molecules, like those in the supplements, are not water soluble and thus not terribly inclined to perform reactions in water — certainly not at room temperature.
To date, scientists have solved this problem with organic solvents — chemicals that act as the reaction medium, creating an environment for oil-loving chemicals to respond. Organic solvents, however, are a major source of pollution for just about any industry — including pharmaceuticals, fragrances and agrochemicals — that uses chemistry. Drug companies, for example, typically create 50 to 100 kilograms of waste for every kilogram of drug made.
But at his acceptance speech for the EPA's prestigious Presidential Green Chemistry Challenge Award in June, the professor of chemistry and biochemistry said traditional — and toxic — solvents could be a thing of the past. What's the solution?  "Nanoreactors," proclaimed Lipshutz.
It's the medium in which chemistry takes place. Ethanol, methanol, ethers, hydrocarbons like benzene and toluene. Those are solvents. They facilitate and help control reactions.
In general, organic solvents are toxic, flammable, and they present all kinds of safety issues beyond that. There's just no way around that. A lot of times, when companies run reactions, they use one or more organic solvents, after which they oftentimes throw them out. They just pay people to truck them away. Take them wherever — they bury them, or they burn them.
Which brings us to your nanoreactor. What is that, some kind of tiny power plant?
Actually it's a vessel; a reaction vessel. By "nanoreactor" I just mean it's the size of a nanometer particle, made up of individual units of what's called a surfactant. And "reactor" meaning a reaction vessel, like a flask or any of the usual sorts of containers in which chemists run reactions. Only this one is extremely small. 
A nanosized bottle. How does it work?
Imagine a swimming pool full of water. And you throw in 50 or 100 ping pong balls. Not necessarily floating on top, they move throughout this large body of water. And on the inside of each would be where the chemistry takes place. 
Like little submersible subs with laboratories in them?
Sort of. Their components of each particle are aligned. Each component has a polar and nonpolar portion. The inside of each particle houses the nonpolar portion, while the outside exposes its polar portion, associating with water which is also polar. The outside aligns with water in a "like-dissolves-like" way, and the inside stays unto itself because it's greasy and not interested in associating with water.
So we add chemicals into this pool. Then what happens?
You just dump the items to be reacted into the pool of water, which is about 98 percent water — containing very limited amounts of these nanoreactors. But these reactants are organic molecules, so they are not soluble in water. The only place that they can get solublized is on the greasy inside of those nanoparticles. So, all these molecules are trying to get to the inside of these particles.
Imagine 150 people all waiting for an elevator that holds only 25. If all 150 people shove into that elevator for an eight-hour ride down, you are going to have an awful lot of chemistry happening in there. 
So any reaction you want can happen in these tiny little flasks, suspended in water. This could theoretically do the job of a solvent, right?
It is a solvent, but it's innocuous. If you could get all the stuff out of there after the reaction, you could drink that water. It's just another form of ester-E. That's vitamin E. This was part of the design feature. That no matter what, the technology was going to be innocuous, even healthy!
Chemistry without solvents?
Most of the methodologies that have been developed over the past 50 years or that have brought us to modern organic synthesis today involve chemistry being done in organic solvents. Now somebody comes along and says "You know what? New rules."
We can do things that cannot be done with traditional organic chemistry. For example, people have said, "That's impossible, you can't do organozinc chemistry, which is very sensitive to water, in water." Well, yes, you can. I think we are on the verge of doing chemistry akin to the way that nature does chemistry. Nature doesn't worry about things like acid/base chemistry. If nature has a problem along these lines, what does it do? Nature forms a pocket in water, kicks the water out and says, "Guess what? I don't have to worry about water." We're saying OK, we're going to do chemistry, at high concentrations, at room temperature, no water. New rules.
Are you reaching out to industries? Drug companies, maybe?
We've only been working in this area less than four years. So this technology has not been around for a long time. I've been going to a number of drug companies — Glaxo, Merck, Schering-Plough. I was at three sites at Bristol-Myers Squibb last May, I'm going to Novartis, and to Pfizer this fall. They are starting to realize that a nanoparticle approach to chemistry, green chemistry, may be useful, that this can be done. Of course, it's always about time and money, but the economics usually come down on the side of green chemistry if they just make the effort to give it a solid try.