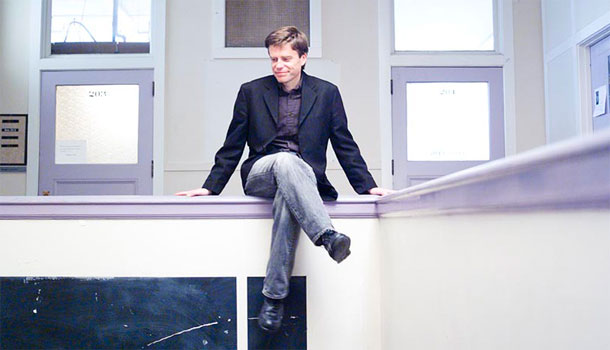 Simon Sadler
Architectural and Urban History

Davis
Turn over any MacBook and read the fine print. It is not "Made in China" or "Product of USA."  Etched elegantly, the trademark reads, "Designed by Apple in California." UC Davis professor Simon Sadler says California has always had a worldwide mystique as a legendary land of innovation. Lately, he's been wondering what exactly it is about California, and its history, that generates so much excitement.
For decades, Sadler has explored how radical and avant-garde ideas have influenced art, architecture and culture. He grew up in the suburbs of Birmingham, England, and "escaped" to cosmopolitan London. In his youth, he worked as a bike messenger and went on to pursue five academic degrees. He has examined how everyone, from hippies to Marxists to urban architects to utopians, has pushed the envelope of design and culture, and tackled that proverbial question: Do we make the environment, or does the environment make us? 
Does design influence culture?
Before I came to UC Davis, I wrote two books — one on European avant-garde artists and architects who were basically driven by Marxism and anarchism, and one on the British group Archigram, which believed that it was possible to change culture by introducing technology into the details of everyday life. The first group urged revolution through social organization, and the second through technology.
After that, I was drawn to the American counterculture. All three of these movements sought to incorporate broader issues than pure aesthetics into the design of the environment we live in. So the movements are of enduring interest because they offer extreme answers to something many people wonder about — what's the relationship between design and life?
One of things I urge students to think about as they look at an object today, whether it's a building or a car or any other designed object, is the way these objects are politics by other means.
What do the Sixties have to do with sustainability today?
The 1960s produced a counterculture of bacchanalian possibility. It wasn't just about sustainability; it was about a grand ecology. It was an inquiry into how everything fits together. But how did sustainability start out so exciting and end up so boring?  One possibility is that it became a culture of prohibition, not a culture of possibility. The agenda got narrowed down, (refocused) on efficiency, which of course markets and economies like anyway. And the intellectual project, the riskiness of it, the revolutionary possibilities of it, got forgotten.
In many ways I agree with prohibitions. I don't want whales to be killed. I do want lights turned off when they don't need to be on. But prohibitions do not inspire people. What was so exciting about the counterculture — as expressed in places like Stewart Brand's "Whole Earth Catalog" or in architecture like Richard Buckminster Fuller domes — was a way of thinking outwards, a way of always trying to involve more and more people with crazier and crazier ideas. So it emanated energy, rather than talking about a contraction of energy.
Today, our sudden interest in sustainability and climate change has revived some countercultural ideas. But this latest ripple has become rather righteous, which alienates people. 
Why did architects turn their backs on the counterculture?
Architects realized that the ideas of self-organization, intentional community and ecology, threatened the extinction of architects. They threatened architecture as we traditionally know it: bold monuments, visionary designs.
In the late '60s and early '70s, the most interesting architectural magazines were full of countercultural ideas. They seemed to propose not only a radically different sort of future, but also one in which the job of designing and making the world passed from the architect to the user, to ordinary people. 
Architects were not only fascinated by the concept, but also terrified. It correlated with some of my early research on artists and architects in the avant-garde in Europe. They too suggested we could design systems, or create situations, which would ultimately be arbitrated by the people who take part in them.
With the waning of the 1960s, what we see in architecture, and other arts and humanities, is the rise of post-modernism. You can see it in the textbooks. Chapters on what we now think of as ecology and sustainability were just deleted. People thought we should stop worrying about energy, and about ecological and social processes. 
What bores "starchitects" about sustainability?
There is something banal about the contemporary sustainability agenda, where we just go around with a clipboard making sure not too much hot air leaves the building.
Economy in architecture matters, of course. But some of the most interesting and vanguard rock star architects, people like Rem Koolhaas and Frank Gehry, don't believe architecture should be all about the bottom line. They think it's about the top line, about creating ripples, dysfunctions, buildings that make people say "what?" 
Whenever you read or hear about a truly great building, you find the inevitable critiques about leaks or cost overruns or the size of the offices. But that's what you get when you want art, when you want the one-off masterpieces. Masterpieces don't necessarily work that well from a practical perspective. Architecture at its highest echelons really wants to be an art. It doesn't want to simply provide us with efficient shelter.
So in the culture of contemporary architecture today, there's a split emerging between those who believe that the highest bar in architecture should be a good LEED rating, and those in the most dynamic schools who insist that architecture is about much more and think sustainability is a huge bore. 
Is California the only place left for the counterculture of the future?
California deeply informs other ideas about the economy, creativity and technology. But what is this Californianism? And whatever it is, can we name it or point at it or give examples of it?
My sketch answer to these questions really comes back to everything I've learned about the avant-garde and counterculture — its themes of excitement, self-organization, ripple effects, its fascination with technology and nature. Surely California is the world's most eminent center of innovation.  Even in these times of economic crisis, it still has a certain cachet, a certain grand identity, a mystique. 
I'd love to nail what is it about knowing that something is designed in California that excites people all over the world. If I could figure that out for the great state of California, we might get a little closer to figuring it out for our great university system. For our universities are deeply implicated in the same mystique.